No.1 Alarm in Europe
with more than 5 million customers
or let us CALL YOU
Business Alarm Systems
Guarantee your security with our Business Alarm Systems
Verisure Alarm Systems are the market leader thanks to our technology, experience and methods. Our alarms for businesses adapt to the needs of each company, whether they are based at offices, warehouses or other commercial premises. First, we conduct a comprehensive study of your business and customise your security needs, then we identify weak points on the premises and address them, offering an installation process, free of works or cables, that is done in under 24 hours. Get true security for your business!
Business alarm systems protect best
Small and medium-size companies are exposed to all kinds of threats, both external and internal, that can seriously compromise the health of the business and even endanger customers and employees.
A Verisure business alarm system is your best ally to create a safe working environment in which both employees and customers are protected, as well as valuable equipment and materials, and important company information.
Install the Verisure alarm -- the safest on the market -- to deter and detect burglars, place video surveillance, and send warning signals.
Control the security of your business
With our business alarm systems you can monitor your staff as they enter and leave. Check what is going on in your premises with images and voices. Seek help with the SOS button. These are some of the possibilities offered by the Verisure Alarm through its mobile APP. A handy, easy way to take control of the security of your business.
Sign up with the No. 1 Business Alarm Systems in Europe
Thousands of people entrust their security to Verisure Alarm Systems, which offer the best solutions for protecting businesses. However your business operates, and regardless of its venue (warehouse, shop, office, etc.), Verisure offers you the security you need.
Each installation is tailored to the needs of the business that needs to be protected, strategically placing the latest generation of deterrents, sensors and detectors throughout the premises as needed.
The protection provided is comprehensive, covering all access points, outdoor areas and valuable property. Prevent intrusions, detect thieves and facilitate any security action required for any incident with the most recommended business alarm: the Verisure Alarm.
Your business, protected by our Smart Alarm Systems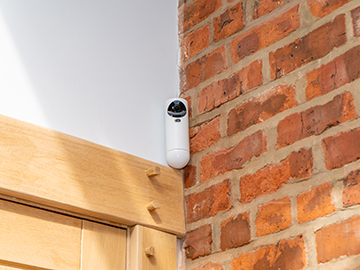 Image and Sound
Verisure customers can find out at any time what is happening at their business. Thanks to our detectors with cameras, you always know what is happening at your business and, in the event of an alarm going off, our security specialists check whether an unauthorised entry has occurred, then notify Guard Response as soon as possible if necessary.
A Clear Deterrent
Adequate protection begins with deterring thieves. Identify your business as a space protected by Verisure by using our deterrent posters and installing an independent alarm siren that emits a powerful sound when an intrusion is detected.
Access Control
Thanks to the Verisure business alarm key reader, activating and deactivating your equipment is easy and convenient. If you give a smart key to each employee, the key reader serves as access monitoring and control, recording all comings and goings on the premises. Monitor your employees' timetables while protecting your business with top of the line security.
How do we prevent a break-in in 45 seconds?
Find out about the technology and the people behind the Verisure alarm.
Professional Installation is completely wireless,

with no structural work of any kind, in just 24 hours