our alarm systems
Arlo Indoor Security Camera
Arlo Essential Indoor Camera
The Arlo Essential Indoor Camera is full of useful features, all of which go towards managing your own home security and providing you with the best possible protection inside of your home. With 1080p video quality at all times, a 130o wide viewing angle, two way audio with a built in siren, and an adjustable shutter for more privacy, the Arlo indoor camera ticks all the boxes for your home security needs. There is no need to worry about people sneaking around at night too - with crisp night vision capabilities, this indoor camera will pick up any intruders no matter the time of day.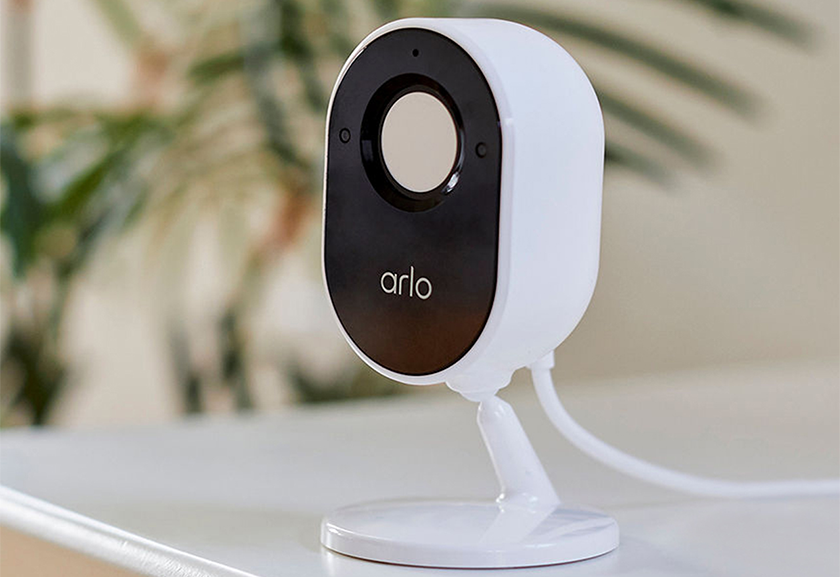 The camera's high quality feed, combined with its 130 degree view means you'll never miss an intrusion, or even disturbance, again. Our Security Experts will be able to install this camera in the optimal position inside your property to make sure your camera covers every possible access point within your home. Once set up, you will be able to link this feed directly to your smartphone for 24/7 monitoring anywhere in the world.
On top of all this, your smartphone also lets your sound an alarm remotely from the device to scare off intruders or make use of the two way voice communication to talk with whoever may be inside your property. This could be a loved one or even a pet, and can act as a way to quickly and effectively monitor your property for any circumstances. Should you wish to not have this 24/7 monitoring feature, the camera comes equipped with a privacy shield; a shutter over the lens than can be opened and closed at will from the Smartphone app. If you're just relaxing at home or perhaps don't want constant monitoring, this feature is easy-to-use and can take care of that problem in a matter of seconds.
| Keeping you safe | There with you | Lifetime guarantee and free maintenance | Maximum deterrent |
| --- | --- | --- | --- |
| The Arlo  Indoor Camera combines high quality video footage and wide angle viewing for maximum security, making sure to cover all possible ground and detect any intrusion | With smartphone integration, the Arlo Indoor Camera can be carried in your pocket, ready for you to view and act on at any time. | Your safety is our number one priority. So we keep your Arlo Essential Camera in great condition, for free, for life. | Criminals look for easy pickings. When they see the Verisure signs on your property, they'll look elsewhere. |
Specifications
· Night Vision:

integrated spotlight

· Power:

Mains connection power adapter

· Max Video Resolution:

1080p

· Motion Detection:

Motion Alerts sent directly to your phone