FIND OUT ABOUT HELP AND ADVICE
Verisure UK is now recognised
as a Top Employer
Verisure is absolutely delighted to announce that we have been recognised as one of the top Employers in the UK, based on Top Employer's Institute '2023 Top Employers' results.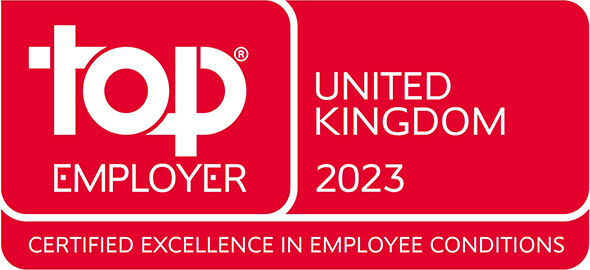 Here at Verisure, putting our people first is always at the top of the list. We work hard to create an environment in which our employees feel supported, included, and engaged in all aspects of their work. The Top Employer Certification is the perfect way to display our values towards our employees, and shows off our organisations commitment to a be a better work environment for everybody.
The Top Employers Institute uses 6 key practices when determining who should be eligible for the top employees of 2023:
• Steer: How people are steered in the right direction
• Shape: Which ways the work environment has been shaped for employees
• Attract: How the company attracts and acquires its talent
• Develop: Different ways in which the company develops employee's careers and learning
• Engage: The ways in which the company engages its employees in relation to their wellbeing and recognition
• Unite: How the company unites the values, ethics and diversity, and sustainability of its employees

In order to be certified by the Top Employers Institute, many criteria need to be fulfilled, external audits must be carried out, and a validation of our reports needs to be checked. This rigid examination means only the best companies pass their inspection, and any organisation that falls under their umbrella must fall under their best practices.
More information on the Top Employer Institute can be found on their website, https://www.top-employers.com/en-GB/
We are proud that the Top Employers Institute has recognised our company in all these values, and that our initiatives have contributed positively towards all our employees.