FIND OUT ABOUT HELP AND ADVICE
Verisure's Routines Service
What is Routines?
The 'Routines' service allows you to set a specific time or times on a schedule to arm and disarm your alarm system automatically. With this, you can set your routines to recur weekly or daily, and can be set to run between a specific set of dates that you can decide on yourself. You will be required to set up at least 1 routine per alarm mode (one routine for arming the alarm and one routine for disarming the alarm)

You will be able to create up to 5 routines at one time, all of which can be programmed for different functions and purposes, meaning Routines can fit easily and comfortably into your daily routine.
How do I create a routine?
In the main menu of the 'My Verisure' App, you will find the 'Routines' button.
After accepting the terms and conditions, you will be directed to the page that allows you to 'add a new routine'.
After selecting this, you will be given the option to change the routine name, the alarm mode, the weeks, days, and times you want the routine to operate in, and toggle a recurrence option.
Once these steps are complete, you will receive push notifications confirming the success or failure of the arming/disarming of your system.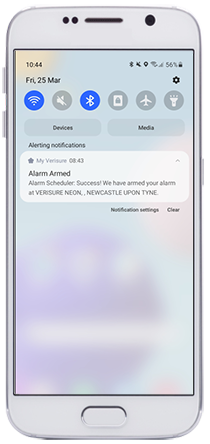 Editing Routines
You will be able to edit an existing routine by selecting the cog symbol in the top right of the screen.
Under the 'Settings' cog, you can select to only be notified when the Alarm Status change fails, as well as change the previously mentioned setting of the routine name, the alarm mode, the time period and the recurrence of the routine.